Slayer

Slayer is a skill that allows players to kill monsters which are otherwise immune to damage. Slayer experience is awarded upon killing a monster and is similar to its number of Hitpoints. Combat experience is also given at its standard rate, so many players primarily train Combat by completing Slayer tasks. The skill is an exclusive means for many powerful items to enter the game. Use ::duoslayer-(Player Name) for faster leveling. Upon completing a task you get points that you can spend at the Slayer Prestige shops.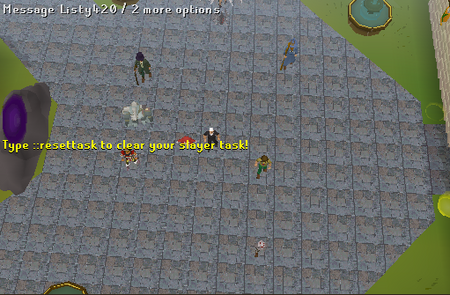 Training

You can begin slayer by talking to the Slayer Task Master at ::home. Talking to them opens up the slayer interface. Inside the slayer interface, you can get tasks, skip tasks, prestige your slayer level, and open up the slayer prestige shops. You can purchase a slayer gem to keep track of what you need to kill. There is no special method to completing tasks compared to killing bosses regularly. You can fast travel to your slayer task by clicking "teleport to task" inside of the interface, if you're having trouble finding it.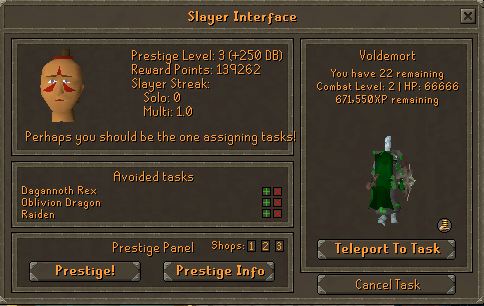 There are more Monsters and Bosses that can be given as a task. The list will be added at a later date.
Skills
Gathering

 Woodcutting •  Mining •  Fishing •  Hunter •  Farming

Support

Artisan

 Firemaking •  Fletching •  Cooking •  Smithing •  Runecrafting •  Crafting •  Herblore

Combat

 Attack •  Strength •  Hitpoints •  Defence •  Magic •  Ranged •  Prayer •  Summoning •  Dungeoneering
Community content is available under
CC-BY-SA
unless otherwise noted.