Prestige Point Shop
Prestiging was introduced into the game to give advantages to die hard skillers.
Requirements upon successful Prestige:
- All skills leveled to 99. (Construction, Slayer, and Agility not included).
- No items worn.
Type ::prestige after requirements are met. (make sure combat skills are not buffed or drained)
Upon Prestiging, you will receive: 
Normal Players - 5 prestige points.
Harcore Players - 8 prestige points.
Ironman Players - 8 prestige points.

Prestige Point Shop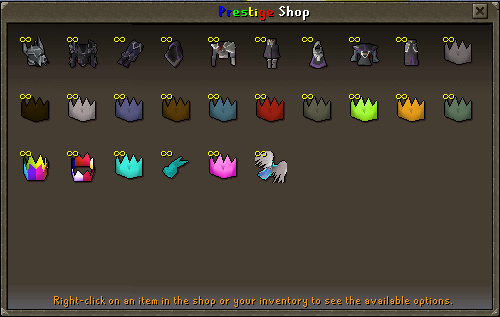 | Items | Cost |
| --- | --- |
| Torva full helm | 2 Points |
| Torva platebody | 2 Points |
| Torva platelegs | 2 Points |
| Pernix cowl | 2 Points |
| Pernix body | 2 Points |
| Pernix chaps | 2 Points |
| Virtus mask | 2 Points |
| Virtus robe top | 2 Points |
| Virtus robe legs | 2 Points |
| Iron partyhat | 10 Points |
| Black partyhat | 10 Points |
| Steel partyhat | 10 Points |
| Mithril partyhat | 10 Points |
| Bronze partyhat | 10 Points |
| Rune partyhat | 10 Points |
| Dragon partyhat | 15 Points |
| Barrows partyhat | 15 Points |
| Lime partyhat | 15 Points |
| Lava partyhat | 15 Points |
| Adamant partyhat | 10 Points |
| Rainbow partyhat | 30 Points |
| American partyhat | 30 Points |
| Diamond partyhat | 30 Points |
| Diamond cape | 30 Points |
| Pink partyhat | 40 Points |
| Angelic deathcape | 40 Points |