Prayer is a skill which grants the player specialized buffs in combat. All players start with limited access to the Prayer skill. As one's Prayer level increases, they gain access to new prayers. As players traverse the land and complete many adventures, they find themselves presented with the opportunity to gain the prayers and blessings. The prayer skill ranges from levels 1 - 99.
By combining the curses prayer Soulsplit, and a fast hitting weapon such as an Ice Katana or a Assault Rifle you can make a pretty deadly combo that will prevent death always making sure you have 1 hp at the bare minimum.
---
Ancient Curses can be accessed through the altar at ::home. Which can be found to the right of the bank, near where you can see a mining icon.
---
A player can train the prayer skill in multiple ways. For basics, a player can bury bones for some experience. However, there is an altar at ::home that you can use your bones on to gain quicker experience. It is recommended to use frost dragon bones. Frost dragon bones can be received from players, ::frosts, and other areas around Dreamscape.
For gaining faster EXP, it's smart to put on a
Double XP Ring
. It gives you double experience in any skill. Experience also stacks on altars. You can obtain a
Double XP Ring
as a loot from a mystery box or from donating.
---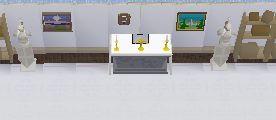 Custom prayers for Donators with each unique special abilities: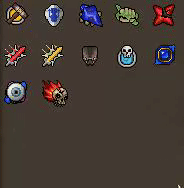 You can obtain these prayers by locating the Chaos altar at home or edgeville.

Types of Bones

Baphomet Bones

Dream Bones

Phoenix Bones

Icy Skeleton Bones

Frost Dragon Bones

Dagannoth Bones

Dragon Bones

Penguin Bones

Big Bones

Bones
Normal Experience
Bones
Type
XP

Normal Bones
1,650
Big Bones
490

Penguin Bones
14,850
Dragon Bones
2,375
Dagannoth Bones
4,120
Frost Dragon Bones
19,800
Icy Bones
50,000
Phoenix Bones
75,000

Dream Bones

Baphomet Bones
Hardcore / Ironman Experience
Bones
Type
XP

Normal Bones
330
Big Bones
98

Penguin Bones
2,970
Dragon Bones
475
Dagannoth Bones
824
Frost Dragon Bones
3,960
Icy Bones
10,000
Phoenix Bones
15,000

Dream Bones

Baphomet Bones
Gathering

 Woodcutting •  Mining •  Fishing •  Hunter •  Farming

Support

Artisan

 Firemaking •  Fletching •  Cooking •  Smithing •  Runecrafting •  Crafting •  Herblore

Combat

 Attack •  Strength •  Hitpoints •  Defence •  Magic •  Ranged •  Prayer •  Summoning •  Dungeoneering