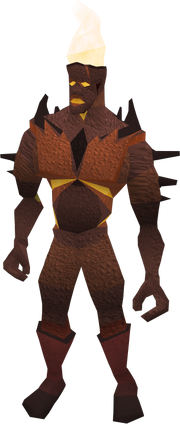 Fire Giants are located south of the dungeon, below the Lessor Demons. They have 1118 (111) Hitpoints.
You will have a 50% chance of getting either the Blue, Crimson, Gold or Green Charm, and you have a rare chance of getting either Treasure Chest (1#) or Key Fragment (#1).
Possible Loots
Item
Quantity
Rarity
Big Bones
1
Always
Coins
1,200
Common
Blue Charm
1
Common
Crimson Charm
1
Common
Gold Charm
1
Common
Green Charm
1
Common
Chaos Rune
150
Common
Death Rune
150
Common
Fire Rune
500
Common
Nature Rune
100
Common
Rune Essence (unnoted)
100+
Common
Rune Arrow
150
Common
Rune 2H Sword
1
Common
Rune Battleaxe
1
Common
Rune Full Helm
1
Common
Rune Longsword
1
Common
Rune Med Helm
1
Common
Rune Platebody
1
Common
Rune Platelegs
1
Common
Rune Sq. Shield
1
Common
Key Fragment (1)
1
Rare
Treasure Chest (1)
1
Rare
Back to Brimhaven Dungeon .