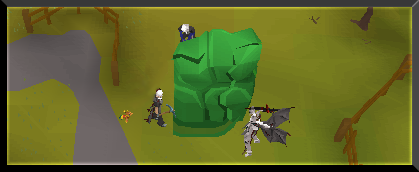 What are Falling Stars
A Falling Star is a new minigame we have added into our server. Once every 3hours, it appears randomly in one of many locations throughout the dreamscape world. The Fallen Star is a green like object that requires you to mine it, Which you get rewards from.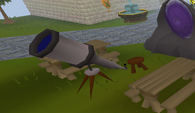 How to find the Falling Stars
At home, there is a new telescope available behind the Ironman instance portal. This telescope will tell you how long until the next star arrives or if a star has already fallen it will share its location.
Locations: 
Below are the listed locations of where the Fallen Star appears:
| Description | How to get there | Picture |
| --- | --- | --- |
| South of Varrock | Teleport to Varrock then walk south from the spawn point. | |
| Eastern Wilderness | Use the Pk teleport to the Eastern Wilderness and walk north towards the fishing spots. Level 36 Wildy. | |
| Southern Wilderness | Walk north from Edgeville on the East side of the black knights fortress. It'll be by the Bandit camp entrance. Level 23 Wildy. | |
| West of Lumbridge | Teleport to Lumbridge and walk West outside of the city. | |
How it works: 
Once every 3 hours the star appears, you are required to take Any Pickaxe to mine it and requires level 0 mining. You mine it by spam clicking on the star. For every 20 star dusts, you collect that grants you 1 rewards it is a 20:1 Ratio.
Rewards:
| Image | Item Name | Quantity |
| --- | --- | --- |
| | Bill Tickets | 100/500/1000/10000/20000 |
| | Phoenix Bones | 50 |
| | Crystal Keys | 50 |
| | Vanguard Helmet | 1 |
| | Vanguard Body | 1 |
| | Vanguard Legs | 1 |
| | Vanguard Boots | 1 |
| | Vanguard Gloves | 1 |
| | Drygore Offhand | 1 |
| | Drygore Offhand (u) | 1 |
| | Mystery Box | 10 |
| | Icy Bones | 50 |
| | Lamps | 5/10 |
| | Hylian Shield | 1 |
| | Statius Helm | 1 |
| | Statius Body | 1 |
| | Statius Legs | 1 |
| | Flame Torva Body | 1 |
| | Flame Torva Helm | 1 |
| | Flame Torva Platelegs | 1 |
| | Flame Gloves | 1 |
| | Flame Pernix Helm | 1 |
| | Flame Pernix Body | 1 |
| | Flame Pernix Legs | 1 |
| | Glock | 1 |
| | Royal Sicle | 1 |
| | White Glass Wings | 1 |
| | Flippers | 1 |
| | Golden Katana | 1 |
| | Ice Katana | 1 |
| | Gold Chain | 1 |
| | Dream Wings Boots | 1 |