Extreme Chief
Extreme Donator donation point store!
This shop is located in the "Extreme Donator Zone". Go to your Armor Tab

  - Then click on Donator options tab 

 - Lastly, click on Donator zone tab

 then choose "Extreme Donator Zone".

Contents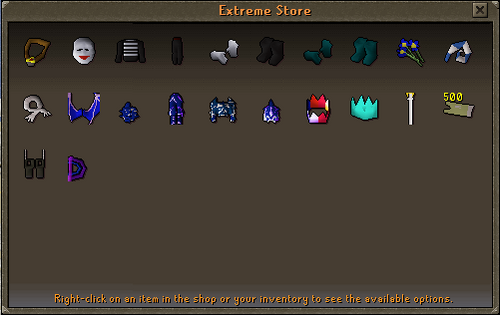 Shop Items
Items
Cost
Extreme Amulet
0 Points
Mime Set

2,000 Points a Piece

Green Gloves
750 Points
Green Boots
750 Points
Blue Flowers
1,000 Points
Extreme Scarf
750 Points
Gnome Scarf
400 Points
Demonic Blue Wing
1,500 Points
Blue Brutal
1,500 Points
Blue Torva Legs
1,500 Points
Blue Torva Body
1,500 Points
Blue Torva Helm
1,500 Points
American Partyhat
750 Points
Diamond Partyhat
750 Points
Angelic Sword
150 Points
500B
250 Points
Dream Wing Boots
3,000 Points
Silver Space Sword
30,000 Points
Community content is available under
CC-BY-SA
unless otherwise noted.