The Double or Nothing Box is a special donation box available from the dreamscape store! The box's mechanics are simple:
Upon opening, you will be prompted with your received reward
You may then choose whether to claim the reward, or gamble it for a chance at a reward from the next rarity tier
If you are lucky, you will win an even rarer item! if not, you lose your reward.
As of September 2019, the box can also be obtained from the Mega Rare Drop Table available to executive and Platinum players.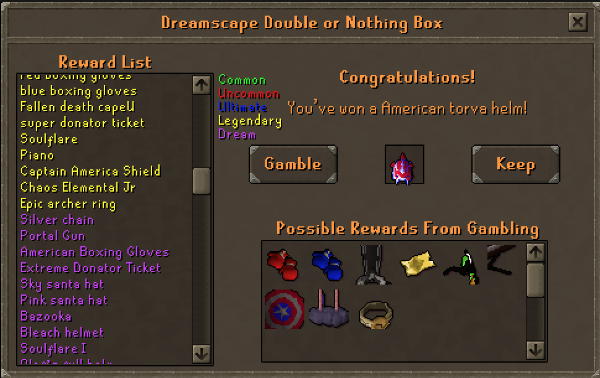 On the left side of the interface, you can see the full loot list.
Possible Loot
Item
Quantity
Rarity
Abyssal Tentacle
1
Common
AK-47
1
Common
Armadyl C'bow
1
Common
Assault Rifle
1
Common
Chaotic Claws
1
Common
Chest Key (1)
1
Common
Drygore Offhand
1
Common
Duel Haloswords
1
Common
Glock
1
Common
Ice Gloves
1
Common
Rainbow Partyhat
1
Common
Royal Sicle
1
Common
Royal Sicle (u)
1
Common
Dragonbone Full Helm (u)
1
Uncommon
Dragonbone Platebody (u)
1
Uncommon
Dragonbone Platelegs (u)
1
Uncommon
Flame Gloves
1
Uncommon
Flame Pernix Body
1
Uncommon
Flame Pernix Chaps
1
Uncommon
Flame Pernix Cowl
1
Uncommon
Flame Torva Helm
1
Uncommon
Flame Torva Body
1
Uncommon
Flame Torva Legs
1
Uncommon
Gold Chain
1
Uncommon
Ice Katana
1
Uncommon
Malevolent Cuirass
1
Uncommon
Malevolent Greaves
1
Uncommon
Malevolent Helm
1
Uncommon
Scoped Rifle (u)
1
Uncommon
American Pernix Body
1
Rare
American Pernix Chaps
1
Rare
American Pernix Cowl
1
Rare
American Torva Helm
1
Rare
American Torva Platebody
1
Rare
American Torva Platelegs
1
Rare
Blue Death Cape
1
Rare
Dream Mystery Box
1
Rare
Dream Wing Boots
1
Rare
Fallen Death Cape
1
Rare
Silver Space Sword
1
Rare
Spacejam Sword
1
Rare
Blue Boxing Gloves
1
Very Rare
Captain America Shield
1
Very Rare
Chaos Elemental Jr
1
Very Rare
Epic Archer Ring
1
Very Rare
Fallen Death Cape (u)
1
Very Rare
Piano
1
Very Rare
Red Boxing Gloves
1
Very Rare
Soulflare
1
Very Rare
Super Donator Ticket
1
Very Rare
American Boxing Gloves
1
Dream
Bazooka
1
Dream
Bleach Helmet
1
Dream
Crystal Helm
1
Dream
Crystal Platebody
1
Dream
Crystal Platelegs
1
Dream
Dream Godsword
1
Dream
Extreme Donator Ticket
1
Dream
Longclaw
1
Dream
Olaf´s Cape
1
Dream
Olaf´s Scythe
1
Dream
Olaf´s Helm
1
Dream
Olaf´s Platebody
1
Dream
Olaf´s Platelegs
1
Dream
Pink Santa Hat
1
Dream
Portal Gun
1
Dream
Silver Chain
1
Dream
Sky Santa Hat
1
Dream
Soulflare (u)
1
Dream
Community content is available under
CC-BY-SA
unless otherwise noted.