Crazy Old Wizard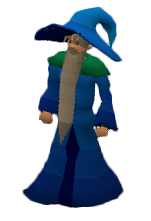 The Crazy Old Wizard was originally introduced into DreamScape as a way to transport to specifc bosses for a small fee.
Since the introduction of the new teleports tab, he no longer charges a fee and all he does is open the boss teleports interface.
He is now somewhat obsolete, but the Crazy Old Wizard is still located in the far north-west corner of ::home if you wish to pay him a visit. He is on the base floor of building where the thugbobs are.