Crafting

Crafting 
is a varied and useful skill which enables players to produce items such as Jewelry, Amour, and Pottery for use or trade. In DreamScape: picking Flax, and afterwards, spinning the Flax, is a great way to start Crafting.
To begin crafting, simply go to your Magic Spellbook and click on the Skilling Teleport, next click on Crafting & Hunter and simply choose Crafting. Another way of getting there is to Teleport to Seers' Village using the City Teleports and run South-East, or Teleport to Catherby using the City Teleports and run North-West.
As you travel to this new place, you will start by picking up Flax from the Fields, and once you have gathered a full inventory, head over to the Spinning Wheel, click on the Spinning Wheel and you will start spinning your Flax into Bow String.
Keep up this simple process until you reach a crafting level of 20.
Once you've reached a crafting level of 20, you can now start to Cut the Uncut Gems. Starting out with Uncut Sapphires (level 20). You will need to head over to the "Crafter" who is located on the West side of the Flax Fields. Trade him and purchase a "Chisel", and an Uncut Gem. (begin with a sapphire)

Please Note: When starting to Craft the Uncut Gems, please make sure you have 2 spaces free in your inventory. Otherwise, you won't be able to start Cutting those Uncut Gems.
Crafting Store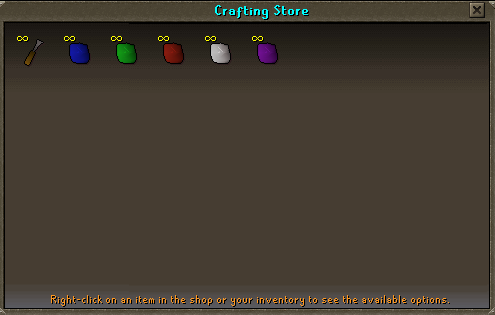 Experience

Normal Experience
Flax & Gem
Type
Normal EXP
Double EXP
Level
Flax
600
1,200
1
Sapphire
1,000
2,000
20
Emerald
1,340
2,680
27
Ruby
1,700
3,400
34
Diamond
2,150
4,300
43
Dragonstone
2,750
5,500
55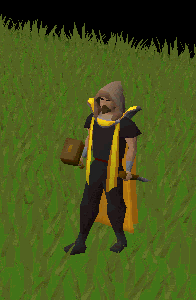 Skills
Gathering

 Woodcutting •  Mining •  Fishing •  Hunter •  Farming

Support

Artisan

 Firemaking •  Fletching •  Cooking •  Smithing •  Runecrafting •  Crafting •  Herblore

Combat

 Attack •  Strength •  Hitpoints •  Defence •  Magic •  Ranged •  Prayer •  Summoning •  Dungeoneering