Achievement Points
Achievement Points are received from doing various tasks throughout Dreamscape. These tasks include answering trivia questions, and completing achievements. Your point count can be seen in the achievement section, of the quest tab. Achievement Points can be exchanged for items in the Achievement Point Shop.
This shop is located at ::home.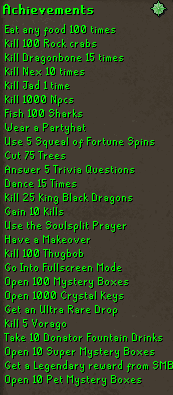 Types of Achievements
Eat any Food 100 Times.
Kill 100 Rock Crabs.
Kill Dragonbone 15 Times.
Kill Nex 10 Times.
Kill Jad 1 Time.
Kill 1000 NPC's.
Fish 100 Sharks.
Wear a Partyhat.
Use 5 Squeal of Fortune Spins.
Cut 75 Trees.
Answer 5 Trivia Questions.
Dance 15 Times.
Kill 25 King Black Dragons.
Gain 10 Kills.
Use the Soulsplit Prayer.
Have a Makeover.
Kill 100 Thugbob.
Go Into Fullscreen Mode.
Open 100 Mystery Boxes.
Open 1000 Crystal Keys.
Get an Ultra Rare Drop.
Kill 5 Vorago.
Take 10 Donator Fountain Drinks.
Open 10 Super Mystery Boxes.
Get a legendary reward from SMB.
Open 10 Pet Mystery Boxes.
Contents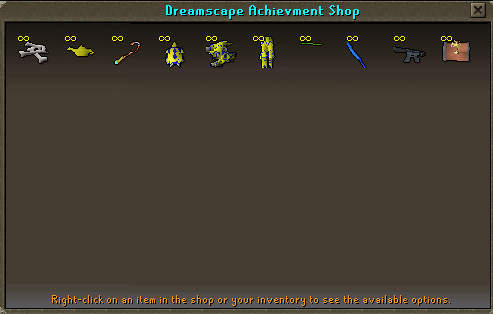 | Items | Cost |
| --- | --- |
| Dragon Bone | 10 Points |
| Lamp | 100 Points |
| Royal Sicle | 200 Points |
| Wolverine Torva Helm | 250 Points |
| Wolverine Torva Platebody | 250 Points |
| Wolverine Torva Platelegs | 250 Points |
| Ice Katana | 1000 Points |
| Assult Rifle | 1250 Points |
| Invictus Box | 1000 Points |
| Green Scythe | 1000 Points |